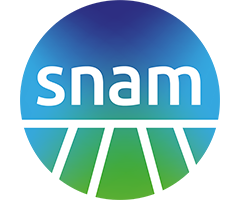 Snam
Snam is the leading European operator in natural gas transport, with a network of around 38,000 km in Italy and abroad. The company also deals with storage, of which it holds 17.1% of the European capacity, and regasification, with 6.5 billion cubic meters of gas that will rise to 16.6 billion cubic meters to 2024 due to the installation of regasification plants in Piombino and Ravenna. Snam is among the leading Italian listed companies by market capitalisation.
With its 80 years of experience in the development and management of infrastructure, Snam guarantees security of supply and promotes energy transition with investments in green gas (biomethane and hydrogen), energy efficiency and CCS (Carbon Capture and Storage) technology. It also creates new green areas through a benefit company focused on urban forestation projects.
Snam is committed, among the first companies in the energy sector, to achieving zero net greenhouse gas emissions ("Scope 1" and "Scope 2" emissions) by 2040. As of 2021, the company has set a reduction target on indirect "Scope 3" emissions compared to subsidiaries and suppliers by 2030. The corporate business model of the company is based on sustainable growth, transparency, the development of talent and diversity and the protection and social development of local communities.
TAG
Trans Austria Gasleitung GmbH (TAG) is an ITO-certified gas transmission system operator in Austria that owns, develops, operates and maintains a bi-directional network of three parallel high-pressure gas pipelines with a total length of 1,140 km from the Slovakian-Austrian border near Baumgarten an der March to the Austrian-Italian border near Arnoldstein.
By converting one of the three existing CH4 pipelines to 100% hydrogen, TAG aims to develop an H2 infrastructure and become a TSO for hydrogen – helping to link production with the Austrian and neighbouring markets. The high-availability H2 pipeline will also serve as the basis for the Austrian domestic H2 network (DSO level) to meet the local needs of customers in Austria.

Eustream
EUSTREAM, a.s. is a natural gas transmission system operator properly authorized to perform activities of natural gas transmission in Slovakia. EUSTREAM's transmission system represents an important energy link between East and West, North and South providing its customers with international transit, domestic transmission to/from a distribution network and underground gas storages and associated services as well. EUSTREAM pursues the objective of ensuring the safe, reliable and ecological transport of gas to European markets. EUSTREAM operates 2,376 km of gas pipelines and 4 compressor stations.
The company is a member of the Slovak Gas and Oil Association, the international organisations such as ENTSOG, GIE, IGU and Marcogaz working groups. Eustream is a partner of the international initiative with the aim to reduce methane emissions (Oil and Gas Methane Partnership) and the European vision of the European Hydrogen Backbone
NET4GAS
NET4GAS, s.r.o. is the gas transmission system operator in the Czech Republic, securing the international transit of natural gas, domestic transmission and associated commercial and technical services.
NET4GAS transports tens of billions cubic meters of natural gas per year and operates more than 3,800 km of pipelines, three border transfer stations, five compressor stations, and 100 transfer stations at the interface with the domestic gas distribution system. The company is a member of the Czech Gas Association, the international organisations ENTSOG, GIE, EASEE-gas, and the IGU and Marcogaz working groups.

OGE
OGE is Germany's largest and one of Europe's leading transmission system operators, managing about 12,000 kilometres of pipelines. Two thirds of natural gas consumed in Germany flows through OGE's pipeline system, comprising roughly 100 compressor units and about 1,010 exit points. All over the country, its approx. 1,450 staff in Sales, Dispatching, Service and Technical Infrastructure ensure that its customers get the gas they need on time and in an environmentally friendly way. OGE stands for technological and operational expertise in Germany and Europe in all areas related to the transportation of gaseous energy sources. Energy supply in Germany, both today and in the energy mix of the future, is only possible with the involvement of OGE.